Guided Fishing Trips Near Lake Vermilion MN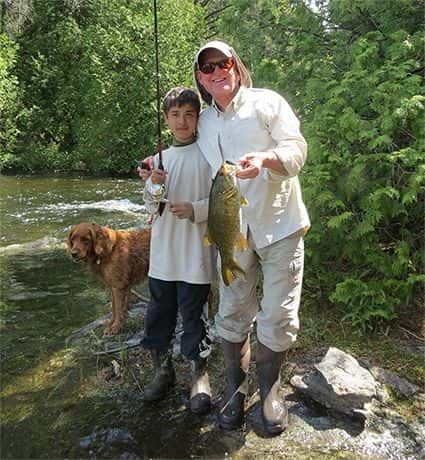 Anyone who has ever fished, even once, knows precisely why it's called 'fishing', and not 'catching'. The sport of fishing doesn't always include reeling a fish into the boat. However, even though we, or anyone for that matter, can't realistically promise you a trophy fish, we can dramatically raise the odds. The Boundary Waters is our backyard and we know the local lakes better than most people. We are highly knowledgeable about the history, native animals, and of course the best kept secrets of Boundary Waters fishing. When you choose our Guided Fishing Services Near Lake Vermilion, you'll catch much more than the Bass, Walleye, Pike, Trout or Crappies you seek; you'll be immersed in the history, captivated by the land, and inspired by the tales our seasoned and licensed Fishing Guides Near Lake Vermilion have to offer. Come to Moose Track Adventures for the amazing guided fishing and stay for the scenery and relaxation. You won't be disappointed – in fact, you'll be back.
Fishing Guide Services Near Lake Vermilion
Our Professional Guide Services Near Lake Vermilion are available as a motor boat guided trip or in a canoe – the choice is entirely up to you but please keep in mind that there are horsepower restrictions on many of the lakes in the area. The fishing guide services provided by Moose Track Adventures are great for all ages and skill levels and, when requested, a shore lunch can be cooked right in front of you, so you can enjoy your catch as fresh as possible. This option comes highly recommended by any who has experienced it.
The Professional Guide Service near Lake Vermilion, Minnesota at Moose Track Adventures offers guided Lake Vermilion MN fishing and fly fishing trips for Walleye, Northern Pike and Smallmouth Bass in the Boundary Waters Canoe Area Wilderness and surrounding lakes.
The Boundary Waters Canoe Area Wilderness offers world class fishing for fish including Smallmouth Bass, Walleye, Northern Pike, Lake Trout and Crappies. Our United States Forest Licensed Guide Service offers a variety of guided fishing trips near Lake Vermilion MN for all ages. So while you're in the area, treat yourself to a full or half day of guided fishing in one of our guide boats or canoes and learn the hottest spots and methods for catching fish from a professional guide.
Our Selection of Boundary Waters Guided Fishing Trips:
BWCA Basswood Lake Guided Fishing Trip – If you're looking for a daytrip on the famous Northern Minnesota Basswood Lake and want to heighten your chances of producing fish, our guides can help you do just that. Be sure that you have a fishing license and BWCA permit well before your arrival date simply by calling us – we will make this process seamless for you. The Basswood Guided Tour also includes us furnishing the bait, boat, gas, life vests and even the rods if you request them in advance.
BWCA Remote Lakes Guide – Do you want more of a remote lake destination in the Boundary Waters area for your fishing trip? We can help you plan, arrive, and even provide bait for your ideal Boundary Waters Fishing Trip experience. The more time you have, the more remote you can get. Regardless if you have a lake picked out or would like our personal opinion in choosing a lake – Moose Track Adventures has some of the best fishing guides near Lake Vermilion.
Lake Guided Trips Near Lake Vermilion – Are you looking to catch a Black Crappie, feel the fight of a Sucker, test your strategy on Trout, devour some of the tastiest Walleye, or maybe check off all 21 native BWCA fish species from your list – we can offer our expert assistance to be sure that you get what you want out of your Boundary Waters Trip near Lake Vermilion.
White Iron Chain of Lakes Fishing Guide – The White Iron Chain of Lakes near Ely Minnesota comprises four interconnected lakes: White Iron Lake, Farm Lake, Garden Lake, and South Farm Lake. All but one of these lakes have no motor restrictions, with the lone exception of South Farm Lake – which has a 25HP motor limit and requires a permit. Our White Iron Chain of Lakes Fishing Guide option will greatly enhance your experience and allow for a stress and guess-free time on these great fishing lakes in Northern Minnesota.
Ultimate Cast & Blast Fishing Guide – This guided trip was developed for the serious fishers. Two full days of fishing on the Boundary Waters' finest lakes. We can map out an area for your specific requests or you can choose the lakes; with either option it is important to have a plan set early because many times a permit is necessary. And for the long days on the lake be sure to ask about our shore lunches – they come highly recommended and are an added $25 well spent!
BWCA Guided Fishing Trips with Experience Guides
Whether you are planning a trip for next year or you're just not having any luck on your current trip up to northern Minnesota and would like a skilled local guide to give you some game changing odds and heighten the level of your on-the-water excitement – Moose Track Adventures will do everything we can to accommodate your requests. One of our five seasoned guides can take you out on a lake trip you can be certain to never forget. Our vast Boundary Waters and Quetico knowledge and experience will give you a new insight into this remarkable land.
Guided Fishing Boundary Waters
There is an abundance of fish to be found in the Boundary Waters (BWCA) and Quetico Park. Increase the amount of amazing opportunities you experience in Northern Minnesota by getting help from our Licensed Boundary Waters Fishing Guides. For Boundary Water Guided Fishing Trips near Lake Vermilion, contact Moose Track Adventures at 218-265-4106. We are also a Boundary Waters Outfitter, so if you need more than what our packages offer, speak up and we will provide.
Back to Guided Fishing