Lakeside Cabins Ely Resort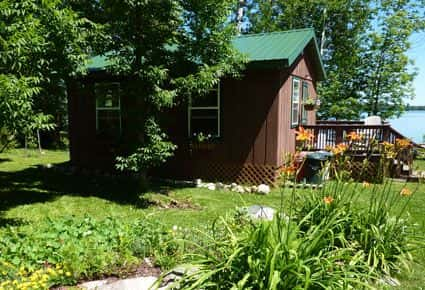 Are you looking for a Lakeside Ely MN Resort? We are located only 7 miles from Ely Minnesota and just outside the Boundary Waters Canoe Area Wilderness. Wake up to see the fog dancing across the lake, the sun reflecting its beauty off the waves and hear the motor of the lone, early morning fisher – all while the birds sing a morning melody. Our Ely Minnesota Lake Cabin Rentals include all that majesty, a personal touch and more. Renting a lakeside cabin, just feet from the lakeshore, gives you a private oasis that includes a dock (which allows you to see your boat from the cabin), charcoal grill, stone fire pit, affordable boat rental options, available bait and the property surrounding you has a beach, playsets and a welcoming lodge. What are you waiting for? Your Ely Boundary Water Adventure awaits!
Highest Rated Ely Minnesota Resort
Moose Track Adventures is rated the best Ely MN Resort because we offer our guests exceptionally clean, newly remodeled and modern lakeside cabins, attractive North Woods landscaping with native flowers, trees and personalized service. Another major bonus is that we are a Dog Friendly Lakeside Ely Resort, in fact, the moment you step into our lodge you will likely be greeted by two of our finest, Sadie and Maggie.
Ely Minnesota Vacation Rental Cabins
One could say our Ely MN Resort is the perfect mix of adventure and comfort. At your private lakeside cabin you can enjoy the beautiful view of Farm Lake, the comfort of wireless internet in your cabin, the security of seeing your boat through your cabin window and if you need something Ely is a 10 minute drive, at most – with coffee shops, grocery stores, gas stations, many restaurants and attractions. You'll feel like you're miles away from civilization but in reality, DQ is only a short drive into town.
Ely Lake Side Cabins
Our two and three bedroom housekeeping cabins are situated only 25 feet from Farm Lake, part of the White Iron Chain of Lakes. Enjoy incredible sunrises from a large living room picture window and evening dinners at your lakeside picnic table or on your deck. Each cabin has a personal touch and is fully equipped, extremely clean & includes heat, hot water showers, microwave, stove, refrigerator, kitchen utensils & all linens (except kitchen & bath towels). A picnic table, charcoal kettle grill and a fire ring for a nice campfire is also included with each cabin. One dock space is included with a weekly rental. All cabins can accommodate four people easily, six people with no problem and some allow for eight. In the dark of night, no matter how far away you are from home, cozy into your cabin beds with ease thanks to our newly upgraded memory foam beds and high thread count sheets. And for your convenience our Ely Minnesota Resort offers wood bundles, ice, live bait, a selection of fishing tackle for sale.
Dog Friendly Ely Resort
If your dog is a well socialized K9, with people and animal skills and has no problem being off or on leash – we welcome them warmly! We have two of our own golden retrievers roaming around our Ely resort and always enjoy meeting new friends, even when they're furry. We do ask that your dog or dogs are not left unattended at any point when you stay at our resort and we have a small pet fee for each animal.
Highly Rated Lakeside Cabin Resort near Ely
The resort in Ely, Minnesota you choose can very well make or break your trip, a critical element on any vacation is knowing your belongings are safe and secure while you're away and that you, your family and friends have a clean and comfortable place to rest before and after any Boundary Waters fishing, canoeing or boating escapades. Moose Track Adventures, an Ely Resort, has been rated #1 out of 32 other Ely Resorts and Specialty Lodging options on Trip Advisors for years (Trip Advisors is one of the world's largest travel sites, one of their main focuses is providing unbiased reviews). There is nothing we can say about our Ely Resort that would surpass what our visitors have already expressed; our reputation is based on our clients' reviews and we are ecstatic that our guest appreciate all the effort we put into our Ely Resort to ensure a Boundary Waters experience worth having.
Our 6 Minnesota Lake Cabins
Many of our guests express that our photos are an exact representation of our Ely Lake Cabins, so be sure and take a look. We are happy to assist you in your enjoyment of all that Ely has to offer, both inside and outside of our lakeside resort. Below are the names of our 6 cabins, 1 of which, the largest one, is not lake side but rather lake view.  To see the inside pictures of each cabin and rates, please click on the individual cabins under the word 'cabins' in the menu at the top of the page.
Bear Paw Cabin – This cabin is situated nearest to the lodge and is the first one seen by our guests and is just feet from the lake, with a beautiful picture window view of the water, private dock and cozy landscaping. This fully furnished cabin has two bedrooms, both with full sized beds and all the necessities of cabin living, with the exception of towels.
Bald Eagle Cabin – Down the trail to the left is our Bald Eagle Cabin. The entire dining room of this 2 bedroom cabin has a large window overlooking the beautiful lake, with bird feeders fully stocked you will be able to enjoy the company of Blue Jays, Woodpeckers, Hummingbirds, American Goldfinch and many other birds. This lakeside cabin is fully furnished, with two full sized beds, a dock, deck and a stone fire pit.
Loons Nest Cabin – Close to Bald Eagle Cabin you'll find Loons Nest Cabin, this lake cabin shares the same comforts as most of our Ely Cabin Rentals. With two bedrooms, a futon and everything to help induce the three R's of summer: Rest, Relaxation and Rejuvenation. And because it's just a couple steps from the dock, once your fully recharged the adventures can begin.
Moose Antler Cabin – Next to our beach is Moose Antler Cabin, a great choice if you have multiple kids and you'd like two full sized beds, with a bunk over one and a futon in the main area. This cabin is close to the playset and you're sure to see a flock of hungry ducks looking for some spare bread near the shore. This is a great beachside, family cabin rental option for younger kiddos.
Wolf Den Cabin – Another family friendly lakeside cabin and perhaps the easiest socialization spot is Wolf Den. This cabin offers 2 bedrooms, one with twin bunks, the other with a full sized bed and the main area has a futon. Children and parents will love the perks of a cabin right on the beach, it allows kids to stretch their legs after a long boat ride, have shallow access to the lake and all the while you can watch comfortably from the cabin, deck or picnic tables.
White Pine Cabin – This cabin is the largest of all six of our Ely Lake Cabins, however this is not lakeside – it is lake view. This is the only cabin located on the right-hand side of our main trail and is easy to spot when driving in. Our White Pine Lakeview cabin has 3 bedrooms with a queen bed, full bed, and twin bunk beds as well as a futon.
Ely Lake Cabins and Resort
If you're looking for a cabin with a view in Ely, MN, you have found the perfect destination! Our Minnesota Lake Cabins have all the comfort you could ask for, views you've envisioned and a clean, yet rustic feel you won't find anywhere else in Northern Minnesota. If you're planning a Northern Minnesota Getaway, call Moose Track Adventures and you won't be misled. Our seasoned Ely Resort operators can give you fishing advice, show you the sweet spots on Farm Lake and even guide you on your journey. Whether you rely on the power of a paddle, motor or you like fishing off the dock, you'll be sure to relish in the sun and the stars at Moose Track Adventure in Ely Minnesota.
Cabins on Farm Lake in Ely, Minnesota
Find a little slice of heaven by renting one of our beautiful Ely Lake Cabins contact us by phone, our preferred method, at 218-365-4106 to check our May through September availability. Every sunrise and sunset in Ely is a sight to behold, start and end your day closer to your roots and rediscover the beauty in this world with a little help from Moose Track Adventures.
Resort Map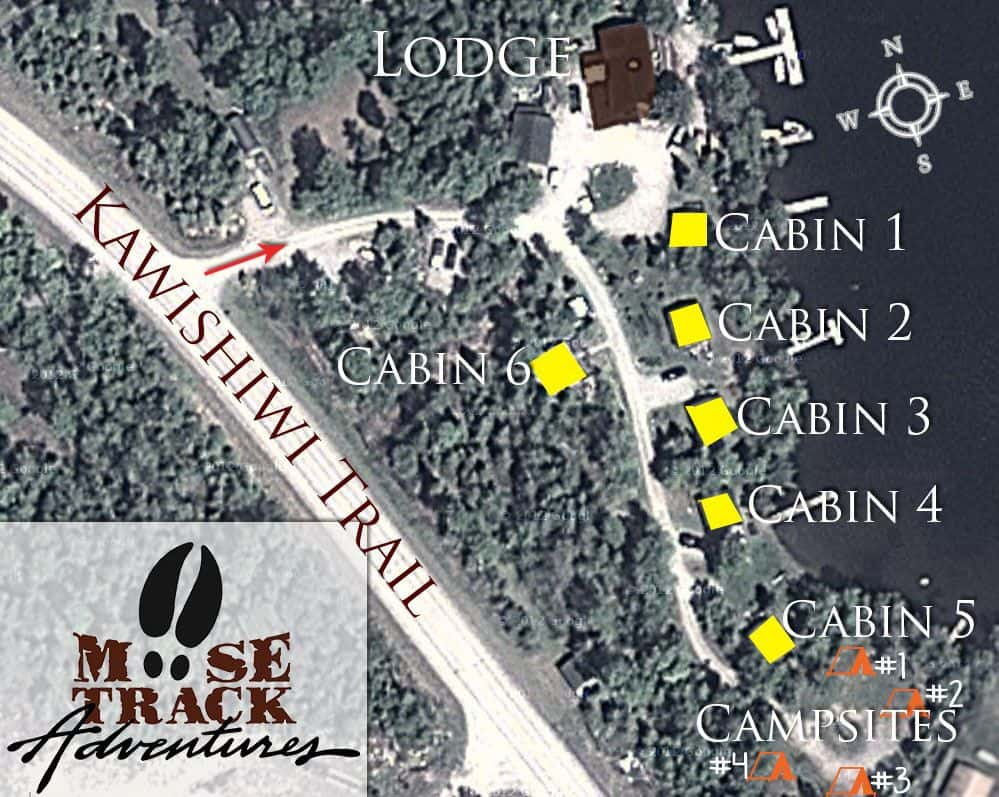 Cabins Near Tower, MN; Cabins Near Babbitt, MN; Cabins Near Virginia, MN; Cabins Near Cook, MN; Cabins Near Lake Vermilion; Cabins Near Eveleth, MN; Cabins Near Orr, MN