Guided Fishing Trips Ely MN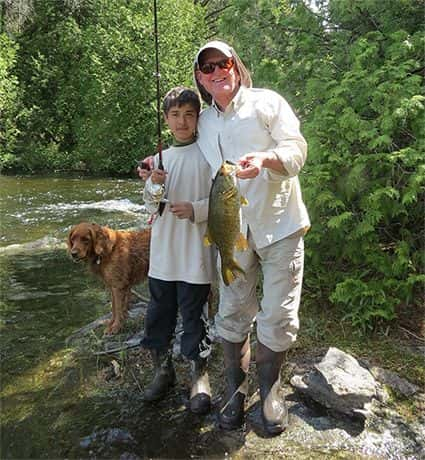 Anyone who has ever been fishing, even once, knows exactly why it's called 'fishing' and not 'catching'. The sport of fishing doesn't always include getting a fish in the boat and although no one can realistically promise you a trophy fish, we can dramatically raise the odds. The Boundary Waters is our backyard and we know the local lakes better than most. We are well versed in the history, native animals, and of course the best kept secrets of Ely and Boundary Waters fishing. When you choose our Guided Fishing Services in Ely, you'll catch a lot more than Bass, Walleye, Pike, Trout or the Crappies you seek; you'll be immersed in the history, captivated by the land and inspired by the tales our seasoned and licensed Ely Fishing Guides have to offer. Come to Moose Track Adventures for the amazing guided fishing and you won't be disappointed. In fact, you'll be back.
Ely Fishing Guide Services
Our Professional Ely Guide Services are available as a motor boat guided trip or in a canoe, the choice is entirely up to you. But please keep in mind there are horsepower restrictions on many of the lakes. The fishing guide services provided by Moose Track Adventures are great for all ages.
Ely, Minnesota's Professional Fishing Guide Service at Moose Track Adventures offers guided Ely MN fishing and fly fishing trips for Walleye, Northern Pike and Smallmouth Bass in the Boundary Waters Canoe Area Wilderness and surrounding Ely lakes.
The Boundary Waters Canoe Area Wilderness & Ely MN offers world class fishing for fish, including Smallmouth Bass, Walleye, Northern Pike, Lake Trout and Crappies. Our United States Forest Licensed Guide Service offers a variety of guided Ely MN fishing trips for all ages, so while you're in Ely treat yourself to a full or half day of guided fishing in one of our guide boats or canoe and learn the hot spots and methods of catching fish from a professional.
Our Selection of Boundary Waters Guided Fishing Trips:
BWCA Guided Fishing Trips with Experienced Guides
Whether you are planning a trip for next year or you're just not having any luck on your current trip up to Ely. If you want a skilled local guide to help you change the odds and add some excitement, Moose Track Adventures will do everything we can to accommodate your requests. One of our five seasoned guides can take you out on a lake trip you are sure to never forget, our vast Boundary Waters and Quetico knowledge and experience will give you a new insight into this beautiful land.
Guided Fishing Boundary Waters
There is an abundance of fish to be found in the Boundary Waters. Increase the amount of amazing opportunities you experience in Northern Minnesota with the help of our Licensed Boundary Waters Fishing Guides. For Ely and Boundary Water Guided Fishing Trips contact Moose Track Adventures at 218-365-4106. We are also a Boundary Waters Outfitter, so if you need more than what our packages offer, speak up and we can surely provide.
Guided Fishing Near Tower; Fishing Guides Near Babbitt; Guided Fishing Near Virginia; Guided Fishing Near Cook; Guided Fishing Near Lake Vermilion; Guided Fishing Near Eveleth; Guided Fishing Near Orr; Guided Fishing Near Isabella